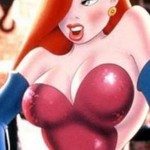 Jessica Rabbit and Sharon Stone have at least one thing in common: their apparent, if momentary, lack of underwear.
That's probably why Jessica's risque scene in the partly animated Who Framed Roger Rabbit (1988) is the fifth most-paused "blink and you'll miss it" moment in movies, according to Lovefilm, a British DVD rental and streaming service.
First, as if you hadn't guessed, is Stone's iconic leg-crossing scene in 1992's Basic Instinct.
Read More